Rental Management Software
Complete management system for car, machinery and equipment rental companies
Keep Your Rental Company With A High Level of Financial, Tax and Accounting Integrity.
B1 Rental is powered by SAP B1.
We offer on a single platform the possibility for your rental company to connect all rental processes (availability / contracts and commercial rules / billing automation / asset maintenance / field operations) with the highest level of financial, tax and accounting integrity
Rental Processes
Get full process support. From asset location to field operations. From contracts to easurements, by billing, maintenance, checklists and much more.
ERP
We help your company reduce losses and deviations and control productivity in the areas of leasing, sales, purchases, all in real time with the financial, tax and accounting chain. Our ERP is complete.
BI
Business intelligence is what crowns every investment in technology. So take advantage of the facilities that our reports and Dashboards offer.
Full Support To Rental Processes
Availability control

Contract management and commercial rules

Billing automation

Asset maintenance

Field operations
Control by status: Leased,
Available, Maintenance,
Reserved, for Sale and etc …
Querying assets by status
Querying assets between dates
Querying assets by type
Querying assets by feature / profile
Control of the term of reservations
Panel with status-defined colors
Checklist – Input, Output and
Substitution
Generation of billing installments, according to the contract
Charging for item and / or service
Delivery note generation (Mobilization and Simple Shipping)
Global collection and insertion of one or more deductibles per item
Proportional calculation on entry and exit of the item
Billable and non-billable months
Collection of excess franchise on separate invoice
Contract Extension and Renewal
Unused franchise discount option
Binding in the equipment, accessories and supplies contract
Linking the contract to service calls
Automation of parcels according to commercial rules
Reading items by spreadsheet import (Billing)
Item reading by importing emails
Reading items via webservice integration
Indication of consumption / use of equipment – billing by equipment and period
Generation of billing lots (pre-invoices and / or invoices) based on the rules of contacts and notes
Centralized billing or by units (branches) defined by contract / equipment
Register of preventive maintenance program for the item / equipment
Corrective maintenance from the generation of OS (called Maintenance)
Checklist of items / services for each scheduled maintenance
Maintenance Panel with color classification of upcoming or pending maintenance
Mobilization and Demobilization of equipment in the process of maintenance
Maintenance execution planning
Sales
Consultation, inclusion and updating of the SAP B1 business partner master data
Opportunity, Quotation and Sales Orders – Consultation, inclusion and change
Activities – Consultation, inclusion and amendment
Services
Service Calls – Consultation, inclusion and modification
Possibility of inserting attachments (photos included) with the so-called
Activities – Consultation, inclusion and amendment
Purchasing and requisition of materials:
Consultation, inclusion and updating of the SAP B1 business partner master data
Purchase Orders and Orders – Consultation, insertion and alteration
Activities – Consultation, insertion and alteration
Coverage for the Rental Market
The Management Software B1 Rental companies was specially designed to support all the processes of a rental company, thus ensuring greater adherence and reliability.
GUARANTEE YOUR OPERATOR'S BEST OPERATION AND MANAGEMENT PRACTICES WITH B1 RENTAL
ERP B1 Rental is fast and absolutely focused on the rental market.
We are focused and motivated to contribute to your Rental Company to make a real digital transformation. We are interested in always finding the best for our customers, we want to dialogue with their needs and present our solution proposal to take your Rental Company to the next level.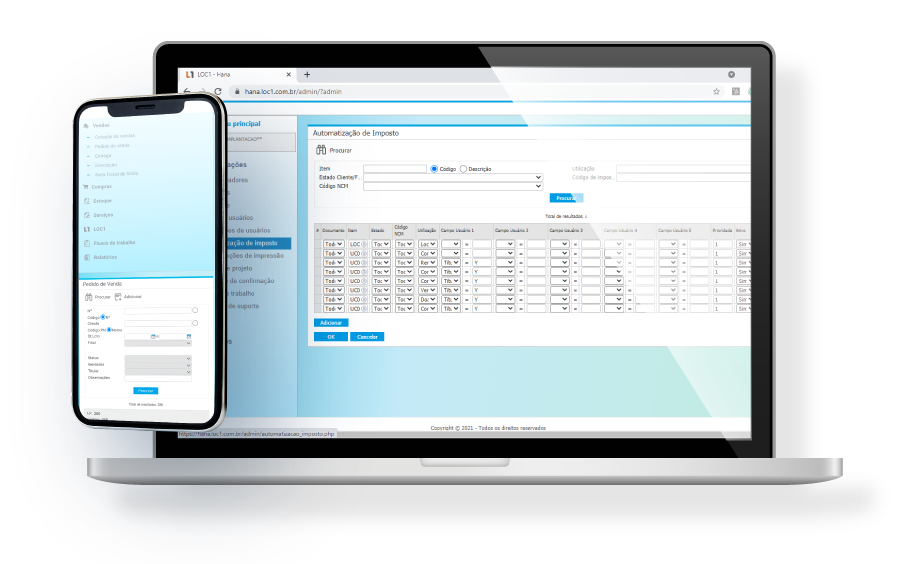 B1 Rental is developed on the SAP platform, The Largest Global Software Company, making B1 Rental the Most Reliable Rental Management System in the World.
Accessible
Take control of your Rental Company anytime, anywhere. Manage your rental company from field operations, through the rear and reaching business intelligence.
100% Safe
Take advantage of the integrity of our platform and the high level of security of our cloud computing. Gain security in your information and your business.
Industry Leader
We work with a leading platform in the management software market and offer the most modern in terms of controls and calculation of results.
Take Your Rental Company to the Next Level
B1 Rental ERP is a proposal that revolutionizes rental management, optimizing processes and results.